The Little Rabbit
by Judy Dunn is a cute book about a little girl and her pet rabbit, Buttercup. It's a nice non-fiction book with good pictures and facts about rabbits.
Since we just finished
The Runaway Bunny
, this was a nice follow-up. Runaway Bunny was a fictional account and The Little Rabbit is non-fiction, so we were able to contrast the two and discuss how to tell the difference between fiction and non-fiction. This wasn't difficult to do since Miss Princess calls pretend play "in fake life." I just told her that fiction starts with "F" and so does "fake" so it's easy to remember. She caught on right away.
Once again, we used free lapbook/notebook elements from
Homeschool Creations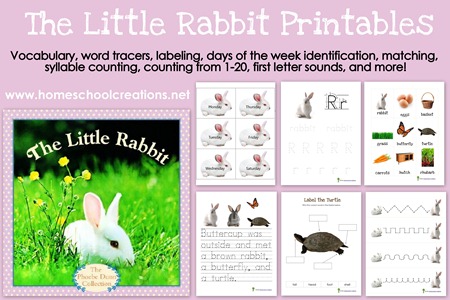 Both of these sites are my go-to sites for excellent free printables.We don't use all the activities, but we pick and choose according to the skills we want to work on at the time.
We also used a cute little book called
Bunnies and Rabbits: An Animal Information Book
by Elizabeth Elias Kaufman. I think it is out of print, but it has a lot of great information about rabbits at just the right learning level for Miss Princess.
I also found some fun activities and additional books that would be appropriate additions to this study:
For a movement activity you could hop like bunnies, narrate with a bunny puppet show.
Some crafts that look fun are:
Bunny Plant Stake
and many other cute ideas
Several different crafts
here
More to come...