I've been asked to create blog posts for what we're doing to share with others. I'm not an eloquent writer and I take pretty bad pictures, but the information I've gathered will hopefully be useful to other families. I'll try to include pictures when I can and the posts will be full of links to other websites.
Kindergarten should, above all, be fun. Please feel free to look at my posts as a springboard for your own ideas. Take what you like and leave the rest. I hope you'll have as much fun with this as I am.
My main starting point for Kindergarten is the booklist from Before Five in a Row by Jane Claire Lambert. You can check out her awesome books
here
.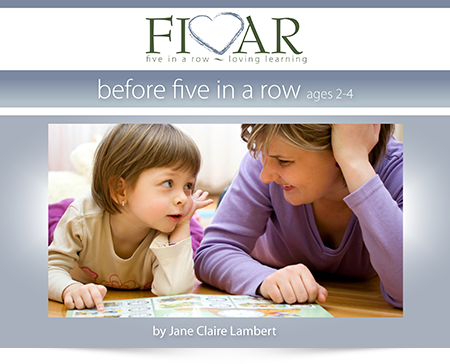 All of the Five in a Row books have excellent ideas and are designed to be done a book each week that you read each day for five days in a row. Then you do different activities for different subjects each day with the book. This lends itself to a ton of really great and fun experiences for you and your child to share and build memories around.
As you go through these units take the time to take pictures and save copies of your child's work. It makes a great scrapbook of your learning time together.
So, without further ado, the first of my kindergarten units is coming right up...